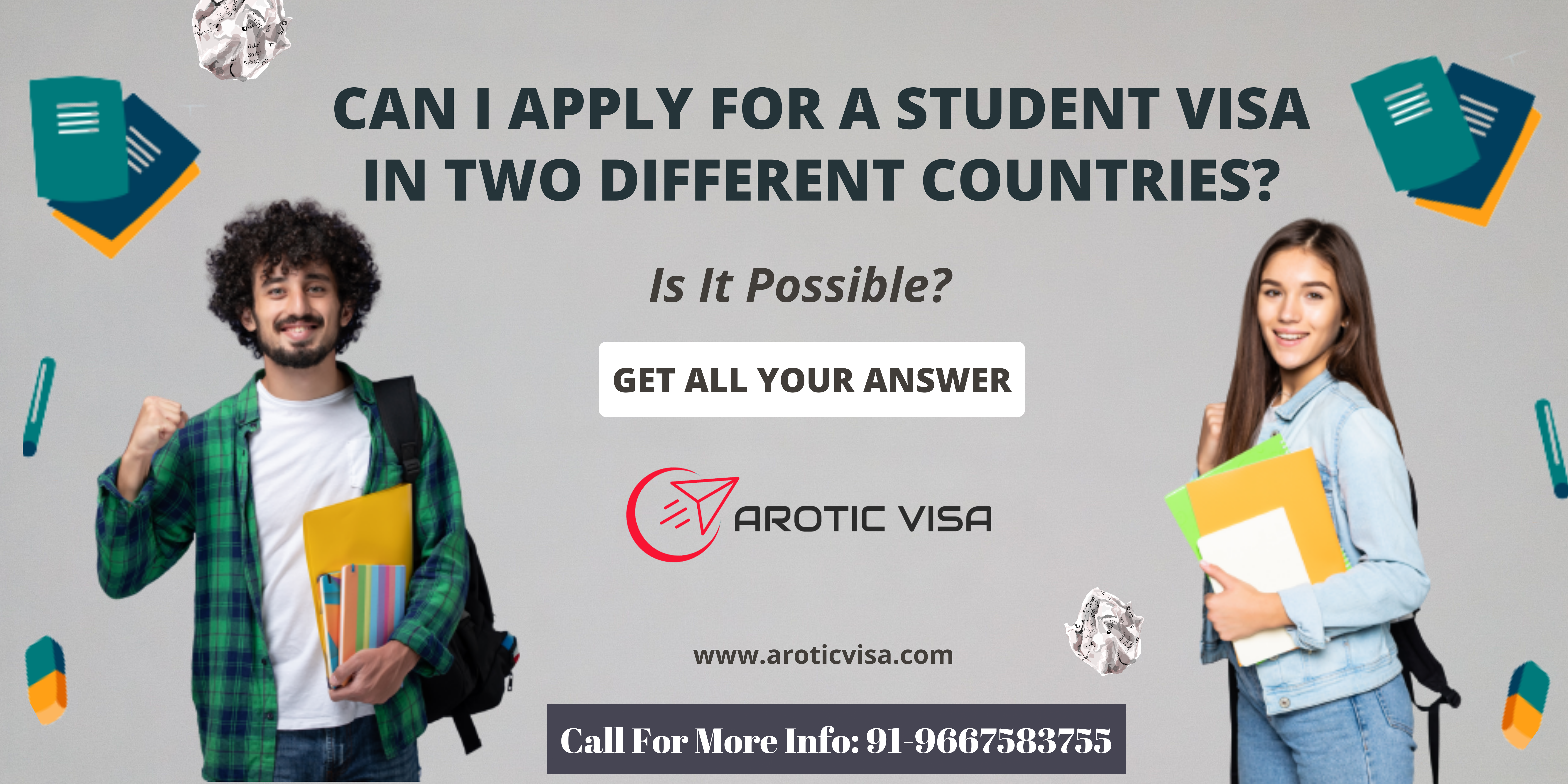 The answer to the questions is a Big Yes. One can always apply for the student visa in two different countries. If you get selected by both the countries then its up to you to choose which country you would like to go.
If you are travelling abroad to further your education, you will make several stops before arriving at your final destination. Standardized entrance exams, language proficiency tests, and educational and financial documentation are all required, with your student visa application serving as the final stop on the journey.
Students' visas are granted to applicants whose primary reason for visiting a foreign country is to pursue an education. Although admission to university is critical, these legal documents will inhibit your success. Each country has its own immigration policies. Documents required, acceptable proof of funds, and what each visa allows you to do outside of studying in the country can all vary greatly.
What exactly is a Student Visa?
A visa is a document that allows a person to enter and remain in another country for a specific amount of time. A student visa, as a result, is a document that allows a student to study in another country. The visa may also allow the student to stay for a few months or years after finishing their studies, depending on a variety of conditions.
Visa Categories
F-1 Student Visa: for study at an accredited college or university or in an English language school.
J-1 Exchange Visa: to participate in an exchange programme, which may include high school and university studies.
M-1 Student Visa: for non-academic study or training in the United States.
Student Visa Requirements
You will need the following documents to apply for a student visa:
Student visa application form for passport
Proof of admission in the form of a passport-sized photo
Evidence of financial resources
International health insurance for students
Previously held university records
How to Begin a Student Visa Application
A study abroad programme necessitates extensive planning. Applicants should plan their admission/application process around university deadlines and work backwards. Students must take English eligibility tests in order for their applications to be processed smoothly, according to university policy. Students should apply three to four months in advance to avoid a last-minute rush. Financial aid, scholarships, and education loans will take an extra couple of months to process because these applications take longer.
To give yourself the best chance of success, fill out your student visa application as completely as possible, taking into account all of the country's specific student visa regulations.
If you make a mistake in your application, make sure to fix it as soon as possible. Your application may be delayed or even denied if you fail to provide a required document or make an error when filling out the forms.
Apply for a Program of Study
To be eligible for a student visa, you must be enrolled in a valid study programme in a foreign country. As a result, before you can apply for a visa, you must first apply for the study programme of your choice.
Consultations with the embassy
A face-to-face interview in your home country is one of the requirements for many countries' student visas.
How much time does it take to obtain a student visa?
Your student visa application will be processed over several months. Some countries may finish faster than others depending on how complete your application is and how many students have applied for visas.
How long does a student visa last?
Student visas are valid for the length of your academic programme. As a result, if you intend to study in a foreign country for two years, your visa will be valid for the same period. Study visas are typically granted for two to four years.
Student visas are in higher demand than ever, with over a billion international students studying around the world. Everyone who wants to be an international student must understand the process of applying for a student visa.
Arotic Visa is your go to place who can get you a long way. If you want to study in Canada or any other foreign country, you can contact the Arotic Visa, your study abroad consultants in Nehru Place as they are one of the best study visa consultants in Delhi. Please contact our experts if you have any questions.